Does your dog know how to spell it's own name?
By Alison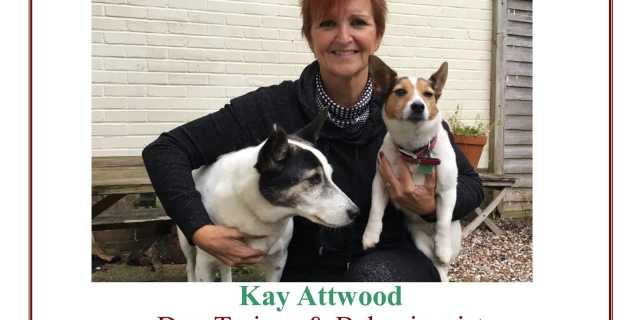 Do you know how much your dog can do? Do you think your dog can spell its name? Dogs are fantastic problem solvers and have superb audio,visual and sensual skills. Under the right conditions your dog can learn colours, how to count, how to differentiate the size of things and yes spell out it's name!
We are delighted that Kay Attwood of Kay9 Services is coming back to Northern Ireland, especially at the end of November to deliver two workshops for Robin Bates Dog Training
Cognitive Skills Class workshop 26/11 10am-4pm (Gone to the Dogs premises in Ballyclare BT39 9AA)
Top of The Class workshop 27/11 10am-4pm (Gone to the Dogs premises in Ballyclare BT39 9AA)
Kay last delivered workshops for us in 2019 pre-Pandemic and all the participants got so much out of them!
In case you missed our Facebook live last week with Kay you can have a listen here . Kay recapped why it is so important to keep your dog mentally stimulated and yes she taught a 6-month old dog to spell his 6 letter name!
Not sure if the workshop is for you ?
Her Cognitive Skills and Top of the Class workshops can help:
improve your dog's behaviour and curb unwanted behaviours

make your dog a better listener

develop higher intelligence

It's low impact and can involve or not involve you.
Here are some frequently asked questions:
-I attended a workshop last year. Is it beneficial for me to attend again?
Yes you and your dog can always learn something new and even if you attended before you may have changed career or got a new dog since.
-I don't have a dog, can I still attend?
Yes, attending as a spectator is ideal for those who are visual learners or also for those who work in the dog industry such as dog groomers, walkers or owners of kennels or daycare centers as you can observe how different breeds of dogs learn and aren't distracted by teaching a dog at the same time .
There are also 6 places available for spectators without dogs at £40 per workshop so if you are interested, please email Robin directly (robin@robinbatesdogtraining.com)
 -I have a reactive dog. Can I still bring it?
Yes, just advise us in advance. We have learnt that workshops like this are often good for reactive dogs as it makes them use a different part of their brain, they are therefore not following a habitual pattern of behaviour and this can help make them less reactive. Reactive dogs sometimes are reactive out of boredom.
-Do you teach harsh methods?
No as with all our Robin Bates and Kay Attwood workshops we only teach positive reinforcement.
-Do I need to take notes?
You can take notes but as you will be busy with your dog, Kay will give out some handouts afterwards.
-Can I bring my puppy?
The Top of the Class workshop is suitable for puppies as long as they have had their 2nd vaccination and have a basic level of obedience (be able to follow commands of wait/sit/listen). The Cognitive Skills workshop is better for older dogs (over 8 months of age).
 - I see the workshops are on 10am to 4pm, will there be breaks?
Yes there will be coffee breaks, a lunchtime break and any time your dog is tired you can let them rest on their bed (which we ask you to bring with you).
-Do I have certain equipment to bring?
Yes, we will email you in advance, but they are all common things you have at home.
We advise you to bring your own water from your own tap-dogs like humans prefer that.
Don't delay find out how intelligent your dog is today!
Book your place now for Top of The Class workshop 27/11 10am-4pm https://booking.robinbatesdogtraining.com/classes/6321db49d506f9248149ee4a
Book your place now for Cognitive Skills Class workshop 26/11 10am-4pm
https://booking.robinbatesdogtraining.com/classes/6321d9a2d506f9248149eddf
Have you a question that isn't answered above? Just contact us directly at robin@robinbatesdogtraining.com

Our dogs give us so much unconditional love and companionship, it's time for us to give something back!
We hope to see you there!
#dogstimulation #facebooklive #kayattwood #kay9services #dogbehaviourist