Paws and Play' Masterclass- the ultimate dynamic doggie enrichment workshop designed to delight both dogs and their devoted owners! 🐾
Do you want to learn ways to soothe your dog and keep them mentally active so they aren't showing 'bad' behaviour such as ripping up your favourite cushions, digging up your favourite plants or generally being bold?
Depending on the age, breed and personality of your dog it may not want walks every day but still needs a lot of mental stimulation which is just as important for our canine companions as it us for us humans!
We call this mental enrichment and it's a good way to boost your dog's confidence and great mental exercise to get you both off the sofa!
🐾Join us for a tail-wagging good time at 'Paws and Play' Masterclass- the ultimate dynamic doggie enrichment workshop designed to delight both dogs and their devoted owners! 🐾
Why join?
Do you want to learn why mental stimulation is so important?
Do you want to bond with your dog and get to know it better?
I will show you during this masterclass some simple enrichment exercises which
can be practised inside or outside weather dependant but is especially good at this time of the year to beat the winters blues!

enrichment toys you can make yourself from household items
Paws and Play: A Dynamic Doggie Enrichment Workshop for Canine Companions and Their Humans"
Wednesday 8th November 17:30-18:30 online via Zoom.
🌟 What to Expect:
Engaging Enrichment Activities: Stimulate your pup's mind with puzzles, games, and sensory adventures.

Bond-Building Fun: Strengthen the special connection between you and your four-legged companion.

Expert Tips and Tricks: Learn from seasoned trainers and enrichment specialists.

Canine Community: Connect with fellow dog lovers and share experiences.
🐶 Who Should Attend:
Dog owners of all experience levels.

Dogs of all shapes, sizes, and ages (puppies and seniors welcome!).

Anyone looking to add excitement and mental stimulation to their dog's routine.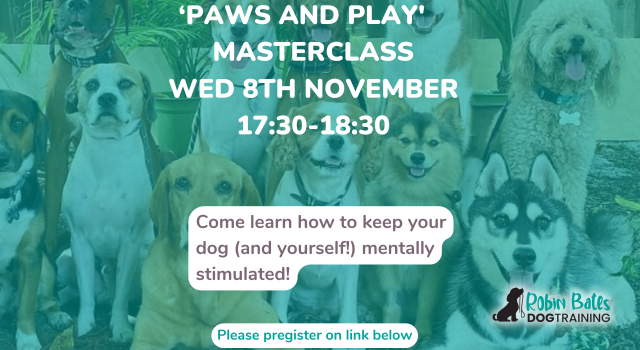 Don't miss out on this opportunity to create unforgettable memories with your beloved fur baby. Grab your tickets now, and let the tail-wagging adventures begin! 🎉🐾
For inquiries, contact us at robin@robinbatesdsogtraining.com
You can see an example of me here using enrichment toys with these 3 lovelies
We will have time for a Q&A session at the end and will give you access to a free resource to help you train your dog.
A replay will be available if you can't attend live or are in a different time zone
The price of this workshop is £45 but did you know if you sign up with monthly membership plan to our Happy and Healthy Dog you will get it as part of your monthly workshop plan along with other benefits such as:
Access to our library of ever involving monthly content (videos/articles/pdf resources) tailored to your needs

Bi-Weekly live Q&A session with Robin

Monthly workshop on canine topics

Training demonstration videos

A private online community where you can connect with other dog lovers and share tips and advice

Affordable price

Learn more about our Society below
Or book a one off workshop price using link 'book online'
See you and your pawsome pals there!