Free Talk-Teaching our kids and dogs to live in harmony
By Alison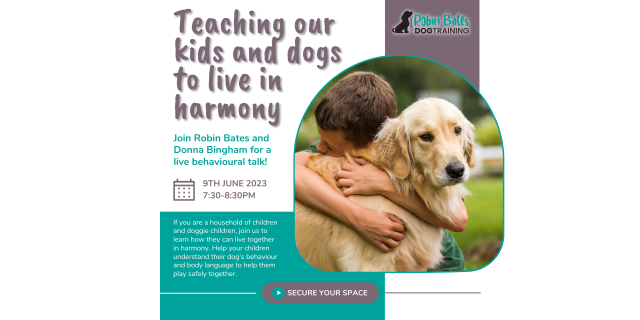 Are you a household of human and doggie children? Following the success of our free talks on puppy care and on dog behaviour earlier in the year, we are delighted to announce our next free event on the subject of teaching your kids and dogs to live in harmony.
Being a doggie parent and also a human parent can be challenging and in this talk we will discuss tips on how dogs and kids can live together safely including:
-Understanding each other's boundaries
-Learning when a dog is anxious or uncomfortable
Robin Bates and Donna Bingham will share their 20 years of experience with dog behaviour and training.
This event is aimed at adults but please feel free to bring your children along as well. Dogs are also welcome. We just ask you to register the places required as spaces are limited and to let us know on the registration form if you are bringing your dog.
This event is completely free to attend, so it's not one to be missed.
The event will take place on 09/06/2023 (7:30-8.30pm, at our Gone to the Dogs premises in Ballyclare, Northern Ireland.
Register via the Eventbrite link below