Celebrating my 20 year anniversary in the dog industry!
By Alison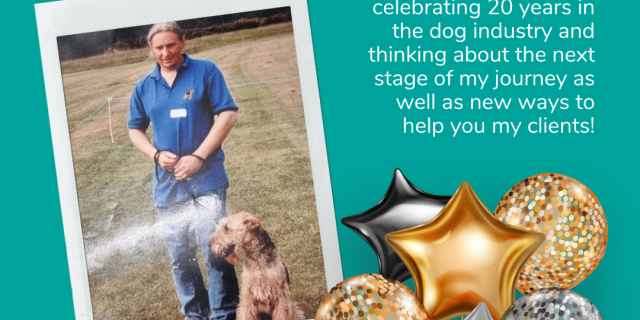 My dog trainer and behaviourist journey has been a tough one, but the main thing I learned was that every opportunity along the way, and every dog I met in my life taught me something. If this is a journey you want to take, always be open to education and learning new things from dogs and people.
This is my story in brief (the longer version may come to light someday).
When I was born, there was already a dog in the family.  Her name was Gale, and she was an Airedale Terrier. I have always had Airedales until recently and hope to have another someday.
I had other dogs throughout my life, and even back in the 1960's as a child, I knew that there should be better ways to treat animals.  Having several animals growing up taught me about their behaviour and also the ability to teach them things which interested me even at an early age.
When I was 30 years old, I was asked to go to a dog training club with my Airedale, Cassie and that was my first training adventure. I spent quite a bit of time training there and learning new skills, but after a few years I figured that there had to be better and more effective ways to train dogs.  There was no internet in those days, so accessing information was a lot more difficult, but I found a trainer and behaviourist in England and that's when my reward-based training education began because I was immediately blown away.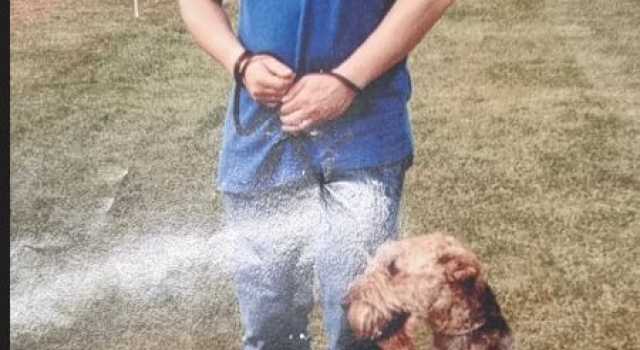 After spending some time learning about reward-based training methods and building my skills and expertise, I then started running my own dog training classes 20 years ago. I introduced one to one training shortly afterwards, moving into behavioural problems as well as dog walking. Dog walking is a great way to learn about dogs and their body language as it is a constant exercise of observation.
During my 20 years in the dog training and behaviourist business, I have run training classes teaching foundation skills for puppies and adult dogs, worked in rescue, managed kennels and day-care, worked on a one to one basis with behavioural problems, dog walked for training and socialisation, offered workshops and seminars, and taught accredited courses for people who are interested in becoming dog trainers or who already work with dogs and want to increase their skills and knowledge.
During this time, I have continually kept up to date with my education and new research and practices, which is vital for continued success and development.

Special 20 Year Discount!
This year as I am celebrating my 20 years in the business, I am focusing on the next stage of my journey, as well as new ways to help my clients.
Watch out for some exciting new opportunities to build on your own dog training skills including my free 5-day Challenge which will be running in September 2023
And a special offer of 20% off all three of my online courses (puppy, adolescent and golden oldies) which is valid until midnight Sunday 30th April.
Keep your training up to date and get yours now on the link below!